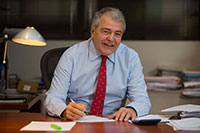 Alvise Achille Bassignano, born in Fonte (TV), is the Managing Director of Itea Spa.
He took a degree in Chemical Engineering at the University of Rome and began his career in 1974 in Montedison, where he worked in polypropylene plants located in USA (West Virginia) and Italy (Brindisi).
He played a significant role in CTIP (Compagnia Tecnica Internazionale Progetti) in Rome, an EPC company internationally active in Oil & Gas industry.
In 1985 Mr. Alvise Achille Bassignano joined Sofinter Group, first in Venezuela and then in Italy, playing even more significant roles until assuming the position of Managing Director of the Main Company and of some subsidiary companies. Since 2012 he has been operating as Managing Director of Itea Spa, the most dynamic protagonist in Europe in the field of clean energy and environmental respect.