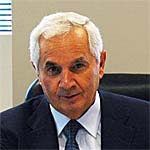 Giampietro Tedeschi, born in Carrara in 1944, is the Chairman of Itea.
He took a degree in Chemical Engineering at the University of Pisa and began his career in 1971 in S.I.R. Società Italiana Resine, where he played increasingly significant roles, becoming, in 1978, the Start-up Manager of the Company.
In 1979 he started the activity of entrepreneur by constituting Commissioning Company Srl, a dynamic reality which became popular on the market for the supply of start-up, operation and maintenance of large plants, in particular for the production of electricity and for sea water desalination.
In 1987 he founded Sofinter, where performed various roles including Chairman.