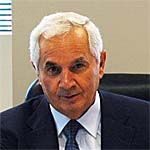 Giampietro Tedeschi, born in Carrara in 1944, is the Chairman of Itea.
He took a degree in Chemical Engineering at the University of Pisa and began his career in 1971 in S.I.R. Società Italiana Resine, where he played increasingly significant roles, becoming, in 1978, the Start-up Manager of the Company.
In 1979 he started the activity of entrepreneur by constituting Commissioning Company Srl, a dynamic reality which became popular on the market for the supply of start-up, operation and maintenance of large plants, in particular for the production of electricity and for sea water desalination.
In 1987 he constituted Sofinter, which was created as holding of the group that at that time possessed service companies in Italy, England, Venezuela, Argentina and Bahrain.
Tedeschi continued his business activity and in 1997 Sofinter acquired Macchi SpA and, in 2001, Ansaldo Caldaie SpA. In 2002 Sofinter acquired ITEA SpA and developed the pressurized flameless "oxy-combustion" technology.
In later years Sofinter controlled also SWS Srl with the multiple effect desalination technology, SC Macchi Romania Srl with a boiler facility in Romania, AC Boilers Egypt, AnsaldoCaldaie Boilers India, Europower SpA, CCA Srl with the combustion research centre in Gioia del Colle, Ecoengineering Impianti Srl with its gasification technology.